View articles by Dr Robert Pincus – Download PDF of the Curriculum Vitae
Doctor Robert Pincus is a founder of the New York Sinus Center and one of Manhattan's most highly regarded, board-certified otolaryngologists and sinus doctors.
Dr. Pincus earned his medical degree from the University of Michigan Medical School. He completed his training at Lenox Hill Hospital and Mount Sinai Medical Center in NYC.
In addition to his private practice work, Dr. Pincus is an Associate Professor in the Department of Otolaryngology at New York Medical College and a Lecturer at Mount Sinai School of Medicine. Earlier in his career, Dr. Pincus was Vice Chairman at New York Medical College, Director of the Department of Otolaryngology at New York's Lincoln Medical and Mental Health Center, and Director of the Head and Neck Service at the New York Eye and Ear Infirmary. He has extensive sinus surgery teaching experience.
Dr. Pincus is a Fellow in the American College of Surgeons, the American Academy of Facial Plastic and Reconstructive Surgery, The American Rhinological Society, and the American Society for Head and Neck Surgery, as well as a Diplomate with the American Academy of Otolaryngology–Head and Neck Surgery. He is currently an active member in numerous professional associations, including the American Broncho-Esophagologic Association; Physicians for Social Responsibility; Society for Ear, Nose and Throat Advances in Children; and the Association of Physicians in AIDS Medicine.
Dr. Pincus has authored more than 40 articles and book chapters in the field of otolaryngology and shared his insights in presentations before dozens of prestigious professional organizations and medical staff. He has frequently been recognized as one of metro New York's leading otolaryngologists, sinus doctors, and surgeons by New York magazine, Castle Connelly Medical LTD, and Super Doctors.
Dr. Pincus' Awards
Castle Connolly Top Doctor 2021
Castle Connolly Top Doctor 2020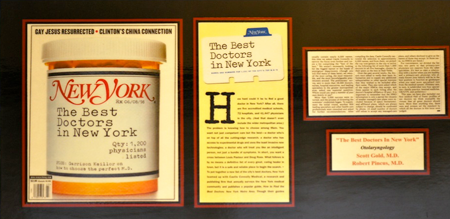 New York Best Doctors: 1998, 1999, 2001, 2013

Castle Connolly Top Doctors: 2002-2016


America's Top Physicians: 2006-2016
Recent Awards: C.C. Top Doctors 2011-2012, NY Magazine Best Doctors 2012